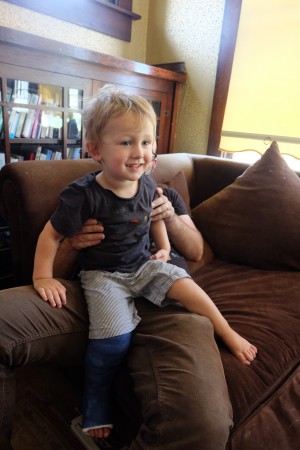 Sol was a trouper getting the cast put on this morning. The prescription medication works well for managing his pain, and already he seems to be needing it less and less frequently. Yesterday he spent the full day lying listless on the couch, but today he's insisted on testing the limits of his new (lack of) mobility. He did his best to roll headfirst off the couch, and when we didn't allow that, he kicked and writhed until we put him on the floor and let him figure out for himself that he can't walk or crawl. Now he's working on a kind of half-scoot, half-roll method of locomotion.
Keeping him entertained for the next few weeks is going to be a real challenge. There's a limit to how many books I can read or clapping games I can play, and he gets bored with TV after about an hour. Blocks are good, catalogs that he can rip to little shreds are good, going for walks with the stroller is good. I'm not opposed to video games but I suspect Sol would destroy something like an iPad in about half an hour; I'm eyeing the new kids' edition of the Kindle Fire because it comes with a two-year warranty. Anyone want to take bets on how long such a "kid proof" device would last in Sol's hands?
Because we didn't have enough going on today, it was also Key Day, the celebration at our preschool for kids like Davy who are moving on to kindergarten. The idea is that they're each given a ceremonial key to show that they are always welcome back for a visit. Here's Davy's key: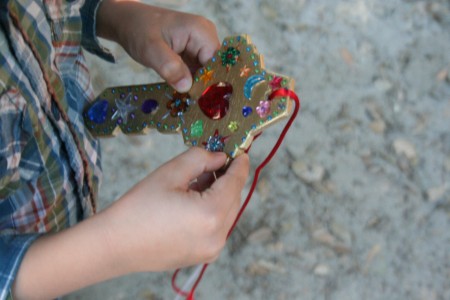 It's a really sweet day. Everyone talks about the special qualities of the kids, and then they walk across a little bridge to mark their transition to elementary school. And then they eat ice cream. Davy was really mostly interested in the ice cream.
Robin got his final report card for the year: it's Montessori so it's all touchy-feely and I have to kind of read between the lines, but it seems like he's doing good in reading but could use more practice in handwriting and math. His teachers wrote: "Robin is a fun loving student and he takes responsibility for his learning each day. This year he has progressed in his focus and has found a balance with his need to be social. Robin has become a self-directed learner…As he continues to strengthen his fine motor skills we look forward to seeing his imagination play out on paper. Robin has made many social connections this year and really enjoys playing with older students. He is working on appropriate boundaries when playing with friends. Robin welcomes leadership roles in groups. Robin continues to cultivate a positive attitude and resilience when faced with disappointment. We have so enjoyed having Robin in class this year and we look forward to his continued progress in the coming year."
It's all very California but also, y'know, nice. I'm genuinely glad that the teachers at his school are just as concerned with Robin's social and emotional development as they are with his academic progress. Next year we'll see how they cope with Davy!