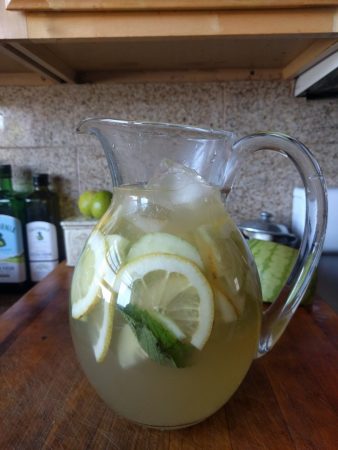 I can't believe it's back-to-school time already. The older two boys started 4th and 2nd grade (respectively) on Wednesday. Smiles and thumbs-up all around at the end of the days, so at least we're getting off on the right foot.
After two years of completely neglecting my garden—the whole back yard is a wild forest now—I decided it was time to go back to getting a weekly delivery of local fruit and produce. This time around we're going with Imperfect Produce, and I was really impressed with our first box. Nectarines, plums, oranges, Asian pears, lemons, limes, garlic, a watermelon, kale, collard greens, a cucumber, green beans, zucchini, a cabbage, an eggplant, and a pint of cherry tomatoes–all organic, and all for $25! (Granted, that's with the $10 off coupon for the first week, but still.)
Their prices are low because they work with local farms to take the misshapen, "ugly" produce that stores don't want. The oranges all had cosmetic blemishes, for instance, and the lemons were either smaller or bigger than you'd see on the shelf in a store. They still taste the same! I promptly made a pitcher of cucumber-mint lemonade and I'm already looking forward to tonight's pasta with sauteed eggplant, zucchini, cherry tomatoes, basil, and goat cheese. School may have already started but dang it, it's still summer in my kitchen!