The bathroom remodel is done! HOORAY FOR INDOOR PLUMBING!
Here's the "before" picture, taken when we bought the house: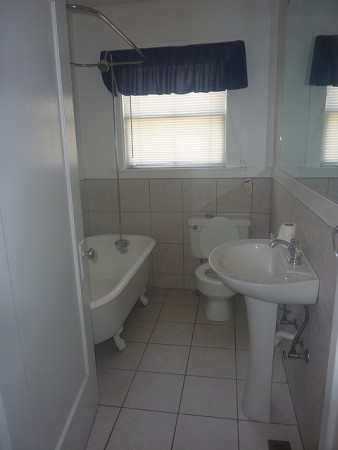 And here's what it looks like now!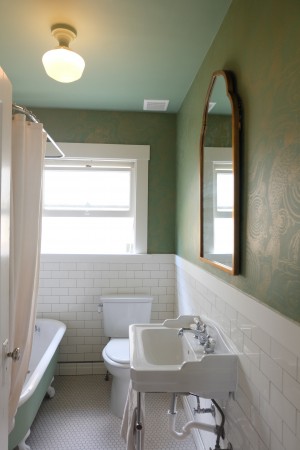 Another angle, so you can see the decorative tile border just inside the threshold: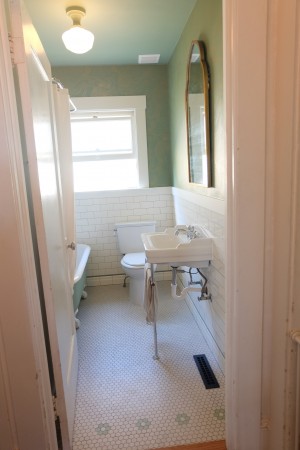 Detail of the wallpaper, "Japanese Carp" by Burrows Studio: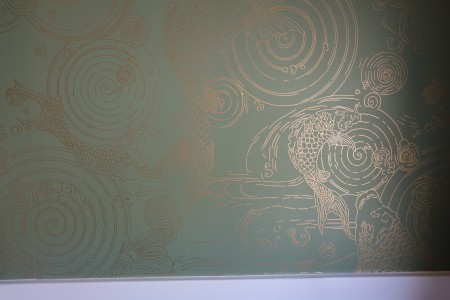 Detail of the tilework, from Heritage Tile: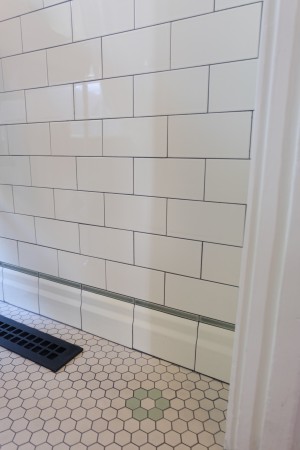 I also want to put in a big plug for our contractor, William Arthur-Haynes of Infinite Builders Group. William is super communicative and always kept us updated with plans and scheduling. Even though our little bathroom was a small project for his company, we always felt like we had his full attention and that our bathroom was just as much a priority as any big corporate project (true story: IBG was also remodeling two floors of the Twitter building in downtown SF at the same time that our remodel was going on). He talked us through all the little choices and details—what color should the grout be, "dove grey" or "charcoal"? Do we want a marble threshold, or oak? We wanted oak, and William milled it himself and mixed the perfect stain to match our existing hardwood floors. And the remodel was completed on time and on budget.
"Communicative," "reliable," and "multi-talented" are all important qualities in a contractor. But most important of all, I've come to believe, is a deep Rolodex. Well, nobody uses Rolodexes anymore. But what I mean is that it's not just the abilities of the contractor himself that are important, but the talents of his crew. William brought in dedicated, knowledgeable specialists to do the paper-hanging and tile-laying for us. We have a 1915 Craftsman bungalow and we wanted to bring the bathroom more into keeping with the character of the rest of the house, so William made sure to set us up with workers who knew a lot about that style and period. The fact that he had such good contacts was a huge factor in how smoothly the whole project ran.
And now I have the most beautiful bathroom in the world!