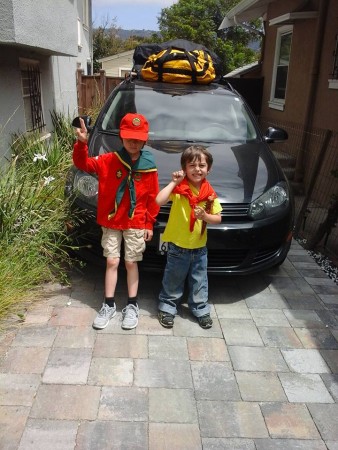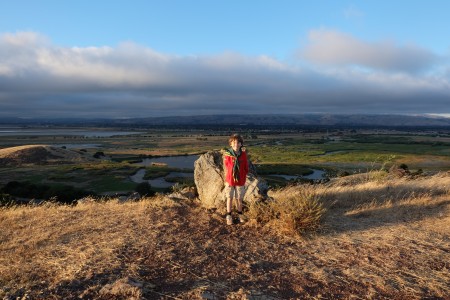 This weekend our scout group hosted a campout for fifty people, including campers from three different regional BPSA groups: the 23rd Oaklanders, the 31st River Valley out of Sacramento, and the 4th Surf City up from Santa Cruz. It was the first time our kids had gotten to see BPSA scouts from other groups—wearing the same uniform, but with different-colored neckers. The big highlight of the weekend for me was watching how quickly the kids from different groups gelled and made friendships. Sam told me once that his best memories from his Boy Scout days were from the big Jamborees, and I feel pretty good about giving the kids in our group that same experience.
We had a great campfire with marshmallows and songs and skits. We had really fun hikes, amazing views, and delicious food—the Timberwolves made us fresh donuts in the morning and they were the best I've ever had.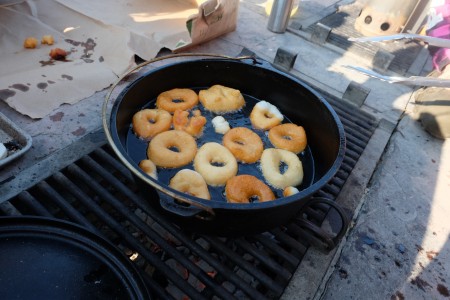 I'm not blogging any of the big group shots because different families have different levels of sensitivity around photo sharing, but it was really awesome to watch three girls studiously building a big campfire or a bunch of older kids taking over the dinner prep jobs. I was also super proud because the dad of one of our families had never been camping before. And he's African American, so from one of the demographics that's really under-represented in national parks and outdoor groups (for reasons that become very obvious once you start looking at the shameful history of discrimination on public lands and in the scouting movement). He said it was "much more fun than I expected" and by the end of the weekend he was talking about shopping for a bigger tent! So, that felt pretty good.
We started the Oaklanders just because we wanted our sons to have a traditional scouting experience in an inclusive environment, but after running this group for a year I have realized that the potential impact is actually much greater than just a nice extracurricular for some middle class kids. There are other outdoor-focused youth groups that do great work, but because we are all-volunteer we are able to keep our costs much lower. BPSA scouting really is uniquely accessible, and because of that I think it has the potential to affect whole communities in a broader way. I have started to think that our little group can really contribute something to Oakland. This is not just for my own kids anymore—it feels like it could truly be something bigger.
Sam took this picture, and captioned it "His and Hers":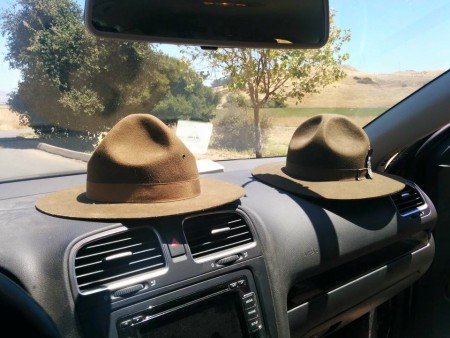 So I guess this is, like, our thing now? I married a Boy Scout. Sam married a Girl Scout. Now we are both Rover Scouts in the BPSA and so help me, I truly mean it when I hold up those three fingers and promise (on my honor, to do my best) to render service to my country, to help other people at all times, and to obey the Scout Law.