---
I've just been notified that the release date for the Love Hurts anthology from Meerkat Press (which will include a story of mine) has been set for December 1st. I don't think pre-orders are available yet, but I have been given permission to share the illustration that will accompany my story: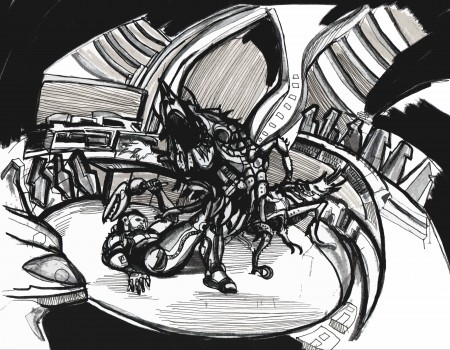 The art is by Sergio Garzon; it illustrates a scene where my heroine, Tess, is fighting a monster in an alien arena. I really like the dark, stylized feel of the art. There's almost something vertiginous about it, which perfectly suits the subject matter.
And I'm particularly pleased that the black-and-white style preserves a lot of ambiguity as to Tess's exact features. I think the only physical description I gave her in the story was a single reference to her "brown human hand," so really the only important thing is that she not be whitewashed. This illustration works very well on that level.
I'll post more about Love Hurts as we get closer to release; I was just really pleased to be able to share the art!
---