---
Davy, pre-haircut: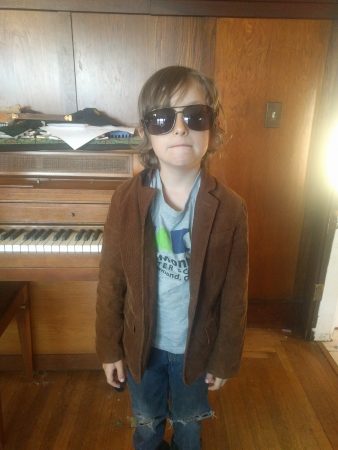 Robin, post-haircut: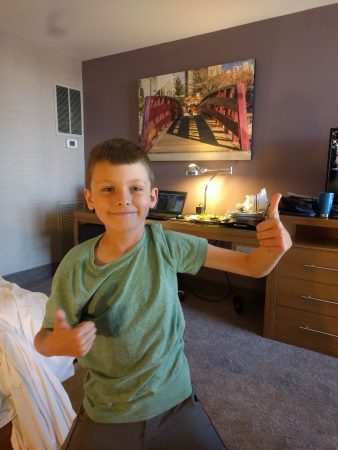 Sol, napping with a silly filter applied: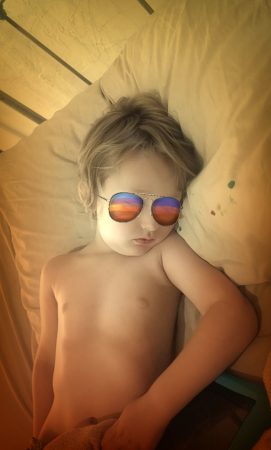 We're all doing well. The terrible fires in Napa and Sonoma made the air quality dangerous here for a while—it was apocalyptic, really. You could smell it everywhere, the ash rained down on cars and sidewalks, just going outside would make you cough and your eyes burn. We packed the kids into the car and spent three days in Reno. It's a lot better now, but of course there's so many people displaced; people who have lost everything. The magnitude of the damage is hard to convey. I've been hugging these boys tight.
---
Last time we went to Disneyland I wrote about how fascinated I am by the psychology and sociology of the place. That's still true, but as I spend more time there I find myself increasingly obsessed with the hidden and overlooked aspects of the park, by which I mostly mean things that I've overlooked in the past. For instance, I never really bothered with the whole idea of "meeting the characters," beyond occasionally admiring a princess.
My thinking was that I really don't need to have an extended interaction with some poor guy or gal in a full-body chipmunk suit who is slowly watching their dreams of making it big in Hollywood die, one overheated sticky day after the other.
I am here to tell you today that I was wrong. You should totally go bother the people in the fursuits. They're awesome.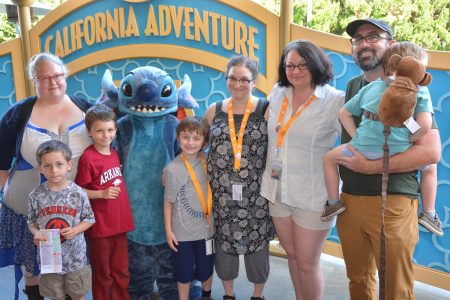 We spent last week at Disneyland (and its sister park, California Adventure, which I actually like even better) with my BFF Nina and her beautiful family, and the absolute highlight of the trip according to my kids was the character meet-and-greets. On Monday we met Stitch (from Lilo & Stitch) and for the whole rest of the week Davy was all about Stitch. He needed the Stitch plushie, the Stitch hat, the Stitch pin. He also worked very, very carefully and for a long time on a drawing that he wanted to give to Stitch. It was really good, and for the rest of the week he carried it around in the hopes that we'd see Stitch again.
On the last day, we did. And while the Stitch actors don't talk, they're actually kind of amazing in how well they emote through mime. I have no idea if it was the same actor from Monday, but Stitch did an adorable little happy dance when he saw the picture, and then he gave Davy a big hug, and it was…really, really heartwarming.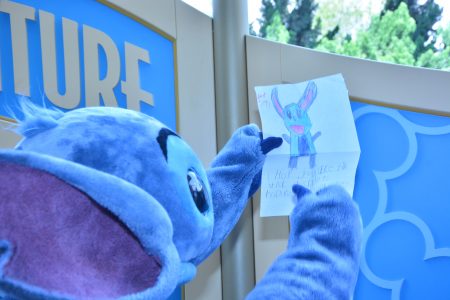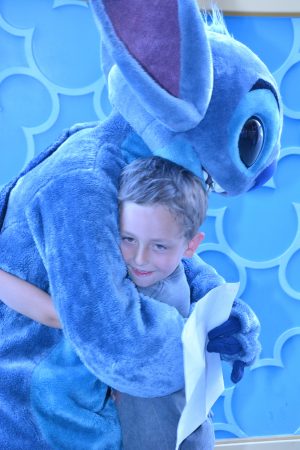 The caption below the picture, translated from the first-grader, reads: "I hope you like this Stitch picture I tried to make a good one." It's signed "Davy 2071." When we pointed out the year is actually 2017 he informed us that he meant to do it that way because 2071 is the date on Stitch's home planet.
On Tuesday, we met Darth Vader.
And let me tell you, Vader is seriously intimidating in person. He's like six and a half feet tall and the cape swirls around him perfectly and he's got the voice down and…yeah. He stared down at the kids briefly, then ordered: "Come here." They meekly stood where ordered for the pictures.
He informed them that he sensed something in them…a power. Robin tried to smile. Davy did not. Sol buried his face in Sam's shoulder and refused to come out.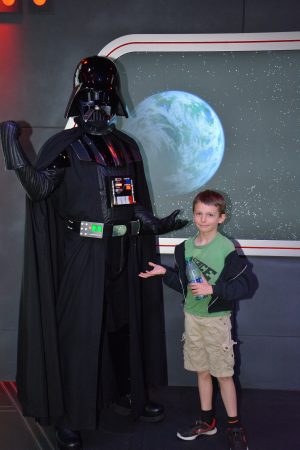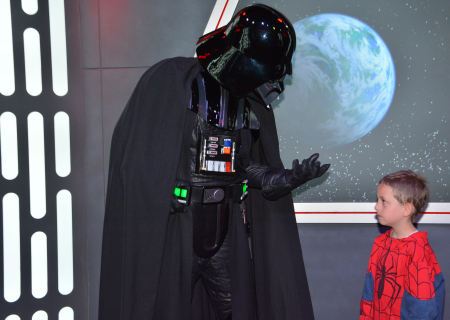 Lord Vader informed the children that "Today…[ssscccchk, cccchhhh]…you have taken your first steps…along the path that leads…[hhhssshshh, chhhhccchhh]…to the Dark Side."
Robin smiled weakly. Davy stared, unsmiling, into Vader's blank facemask and finally said: "Okay."
I surreptitiously touched the Darth's cape before we left. Nina asked for his signature and was informed by his attendants, in a hushed and hurried tone, that Vader does not give autographs. We all agreed that an audience with a Sith Lord was one of the coolest things we'd ever done.
Someone on Facebook asked me if I had any Disneyland tips, and let me tell you, I have tips. Here are the nine I gave:
Use FastPasses! The most popular rides at the Disneyland park are (roughly in order) Hyperspace Mountain, Splash Mountain, Pirates of the Caribbean, Peter Pan's Flight, Star Tours, Finding Nemo Submarines, and the Indiana Jones ride. The most popular rides at California Adventure *by far* are Radiator Springs Racer and Toy Story Midway Mania, with Soarin' Around the World a distant third. If you want to do these rides then either hit them first thing in the morning when the parks open or use FastPasses to avoid hour-long lines.
Get the app! The Disneyland mobile app will show you current wait times for all the attractions, and will also list things like shows and bathrooms. Super useful!
If your kid wants to be in the "Trials of the Temple" Jedi training show, you'll need to be there at park opening and go straight to the Star Wars launch bay in Tomorrowland to sign them up.

Speaking of, here's Padawan Davy fighting the Seventh Sister:

It was pretty lucky that he wasn't paired against Darth Vader, since they're bros now.

Pick the park that doesn't have Magic Morning early admission hours for the people staying in Disney hotels. Otherwise all those people will already be in line for stuff when you get in. Do Disneyland on a Monday, Wednesday or Friday and California Adventure on a Tuesday, Thursday, or Saturday to avoid them.
The parks are very pleasant early in the morning and later in the evening. Heat and crowds get awful in the mid-afternoon. It makes sense to get up early, do rides in the morning, take a rest in the hotel in the afternoon, then go back to the park as the sun sets and stay 'til closing. Rides like Haunted Mansion that are crowded in midday often go down to a ten minute wait around 8 PM, and the parks are beautifully lit at night.
Some of the more overlooked attractions that I think are great: Tarzan's Treehouse and the Enchanted Tiki Room in Disneyland, and the Redwood Creek Challenge Trail and A Bug's Life in California Adventure. These rarely have significant waits. (Also Tom Sawyer's Island, though that was closed during our visit.) The Jungle Cruise, like everything else in Adventureland, is culturally problematic but really fun—and usually not too long a line. The water features in A Bug's Land are a great place to let the kids jump around and cool off a bit:

It's worth getting a Disney credit card even if you cancel it immediately after the trip. A lot of places in and around the parks give you a ten percent discount for using it, but more importantly, both Disneyland and California Adventure have special character meet-and-greets that are only for cardholders. That's how we met both Stitch and Darth Vader, which turned out to be highlights of our trip.

The live performances are fantastic! Absolutely check out the Royal Theater in Disneyland and, in California Adventure, the Red Car Trolley News Boys and the Frozen live show at the Hyperion. Again the Disneyland app will give you times for all of these, and they are all well worth checking out. I think a lot of people are solely focused on the rides but the live performers are super talented and a lot of work has gone into designing those shows. Don't overlook them!
It's very fun to collect autographs from the characters that you meet! I didn't know about this until Nina started asking the characters for autographs, but it's delightful. Their signatures are all carefully designed to match the character's personality, so the princesses have beautiful calligraphy signatures, Stitch has a nearly illegible scrawl, and…well, you've already heard what happened when she asked Vader for an autograph. I love her plan to leave that page in the autograph book blank, to commemorate the experience.

It was a great trip. And I leave you with:
---
---
---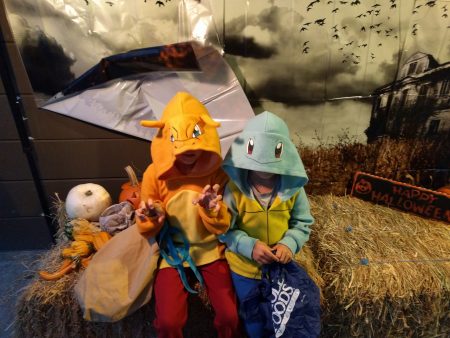 Pretty lazy Halloween for me this year. Storebought Pokemon costumes? Check. A couple hours at the neighborhood block Halloween party? Done and done. And you know what, they were just as thrilled with it as they were the year that I decorated the whole house and hand-assembled their costumes and made M&M cookies and rice krispie treats and popcorn balls. (Why, and more importantly how, did I even do that? Who on earth has the kind of energy for that, Past Me?)
Sol was supposedly a Pikachu but his costume didn't really fit and he didn't really care, so enh. Good enough!
---
Sam, Robin, and Davy all went into the city yesterday to visit the San Francisco Comic Con, a convention for "people that have a true love for comic books, stories, artwork and pop-culture." Robin went costumed as "Lizard Master," a superhero of his own invention, while Davy dressed as Dipper from the "Gravity Falls" cartoon (his current obsession). Here they are on the subway: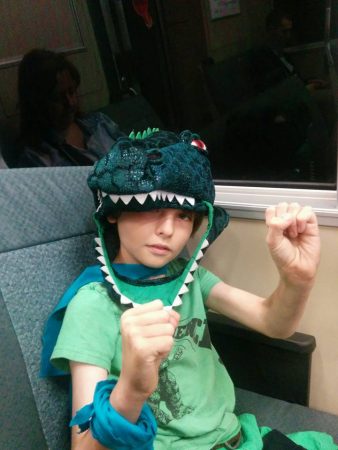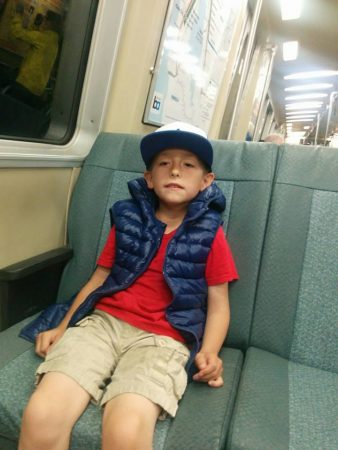 Robin came home calling it, with characteristic enthusiasm, the "best day ever." Apparently he got to hug Godzilla! And T-Rex! And Wonder Woman! (Wonder Woman is cool enough that he made an exception to his reptile theme for her.) Davy was more reserved but also seemed to enjoy himself quite a bit, while Sol and I stayed home and got some rest. So a very nice time was had by all!
---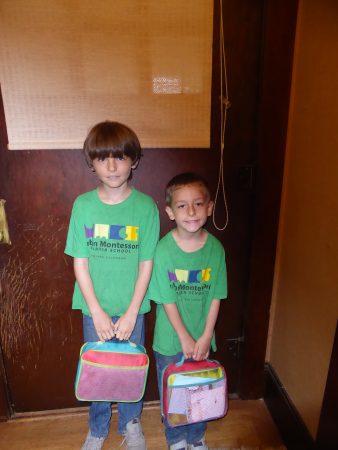 It's hard to believe that summer's over, but this morning we sent these two goofballs off to school, so I guess it must be true. Davy is starting first grade, while Robin's in third. Not the best picture in the world but trust me, any face that Davy makes for a camera will be equally dopey.
Bonus pic: a scene from Robin's fantasy-adventure birthday, starring Lizardzaur the Lizard Knight and his heroic friends. Basically we went to a park, gave the kids some foam swords, sent them off on a scripted "quest" which took about twenty minutes, and then let them run around screaming and swinging weapons at each other for the next couple of hours. "Mom!" Robin said on the way home. "Did you notice this birthday was full of AWESOME?" Yeah kiddo, I noticed.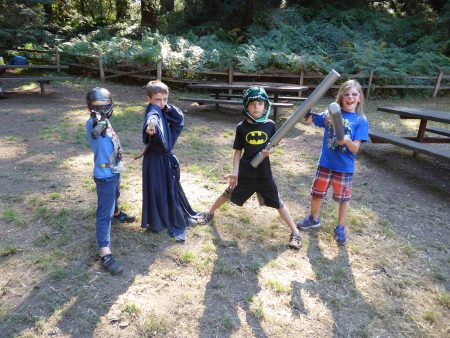 ---
The end of the year is always super busy. It's the last week of school for Robin and Davy and it feels like there's a million things I'm supposed to do. "Update my blog" is on the list somewhere, so I'm just going to throw a few things up.
Here's Sol having fun at the park: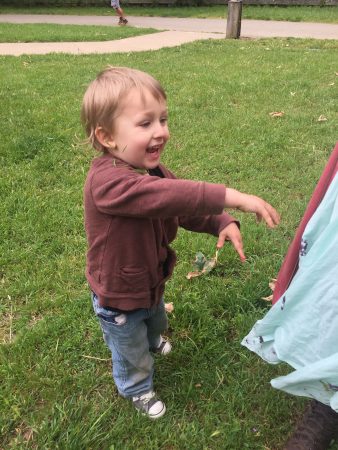 Here is the menu for my fortieth birthday dinner, which was last night:
lamb steaks broiled with garlic butter
pan-roasted asparagus with shaved parmesan
cornmeal-buttermilk sheet cake with blackberries, blueberries, and strawberries
Here is how I feel about being forty: Good, but I'm more than ready for life to slow down a little. I'm really looking forward to sixty.
Here is how I feel about the arrival of summer: super good. I wish you all long days, warm weather, and relaxed schedules. And maybe beaches or mountains or European cities or cabins in the woods—whatever you're into, really. And a lot of it.
---
Happy Easter! We are just back from a camping trip with our scout group. We dyed eggs with onion peels and cabbage, and we hiked in the hills of Garin Regional Park. The weather was excellent and so was the company.
Sol had a birthday last Thursday—now he's a three year old, still up to all the same things as when he was two, except that he's discovered a new interest in letters and numbers. He's got the alphabet down and he can count up to twenty. He still, however, has absolutely nothing in the way of common sense, social propriety, or a respect for others' belongings. So, uh, growth opportunities remain.
He did get to spend two hours this morning romping in a muddy creek. He was sodden and filthy when we finally dragged him away, and absolutely delighted with himself. Happy birthday, little buddy! You are a handful and a half but I am very much looking forward to seeing what you come up with next.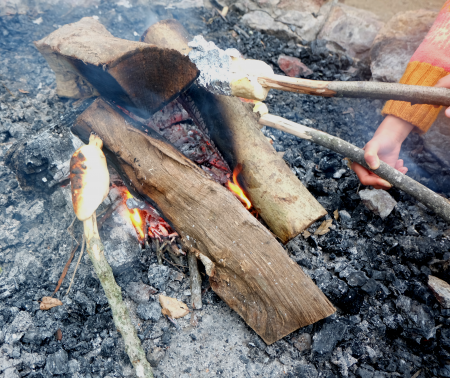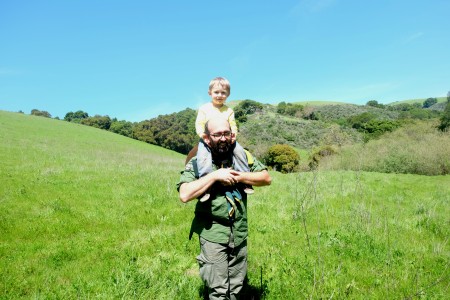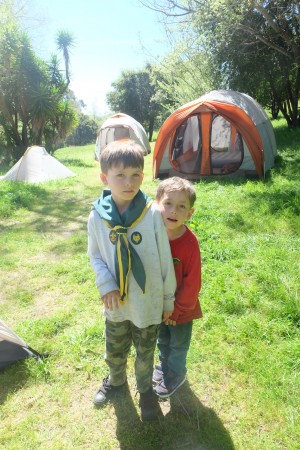 ---