An Oakland Civics Lesson, in Honor of Independence Day
Oakland Police Department says:
REMINDER: Stay Safe During Holiday Celebrations: Avoid Illegal Fireworks and Celebratory Gunfire

The Oakland Police Department and Fire Department are working together to plan for a safe 4th of July in the City of Oakland.

Oakland's Police Chief Sean Whent and Fire Chief Teresa Deloach Reed want you to celebrate Independence Day safely and would like to remind everyone of the dangers and penalties associated with celebratory firearm discharges and the use of illegal fireworks. Setting off fireworks and shooting guns possess a great risk for injury and even death. As such, they have no place in our City.

As a part of our commitment to public safety, quality of life and vitality in our communities, OPD is focused on stopping illegal gun use. During the holiday the Department will be increasing staffing and deploying patrol officers to specific areas of the City that have the highest amount of gunshot and firework activity as indicated by ShotSpotter activation and data collection from last year.

Officers will arrest anyone caught discharging a firearm. Officers will additionally be enforcing illegal fireworks and focus on prevention and education.
Oakland says: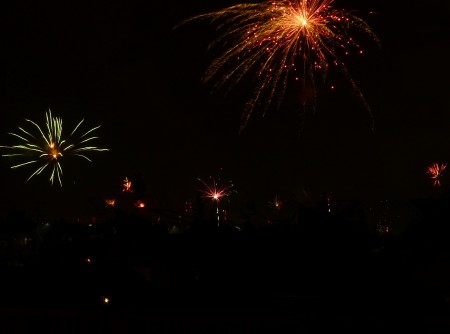 Governments are instituted among Men, deriving their just powers from the consent of the governed.
(I took this picture—actually a composite of a few different pictures—from my back steps. No need to travel to see a light show! Neighbors got that covered. There was plenty of "celebratory gunfire" too, although that wasn't as pretty.)