The Time I Went to the Sun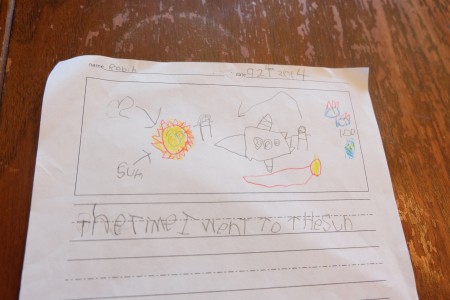 Robin's last day of first grade was last week, so we got to take home a folder of his classroom work from the year, including the picture above. I love it, and I only wish there was more of a story to go along with it.
My favorite material, though, was the "weekend news"—a few sentences that Robin wrote every so often about his weekends. Taken together they make a kind of journal: Life According to Robin. I asked him if I could share the weekend news reports on my blog, and he said yes, so here they are. I've tried to put them into chronological order, and I've cleaned up the spelling.
10/14/2014
"On Sunday a family visit we went to lunch." (Accompanied by a drawing of a car, a house, and Godzilla.)
10/20/2014
"A Sunday I went to Scouts. I had fun. I was with Karen." (Drawing of people holding hands.)
Undated (but around Thanksgiving)
"I was in Thanksgiving me Dad cut the turkey The End."
Undated (but around Christmas)
"I went to my Grandparents. I made a book. The End."
1/21/2015
"Over the long weekend I went to Chuck E Cheese. I went with my family. We played arcade games and listened to music. I had a really good time at Chuck E Cheese." (Many, many, many pictures of a mouse in a tee shirt.)
1/28/2015
"Over the weekend I had fun doing stuff. I played video games. It was fun. The End."
Undated
"On Saturday I went to Fairyland. I went with me dad. At Fairyland I learned about the puppets. I got to play with the puppets. After the puppets, I talked with the puppeteers. Before we left I visited the gift shop. I got a puppet fox. I had a really good time."
Undated
"Over the weekend I made puppets. To make puppets we had to go to the craft store. We made test puppets but it was fun. They looked okay. I can't wait to make the real ones and share them with everyone." (Drawings of animal heads helpfully labeled "puppets.")
Undated
"On Sunday I ordered a new toy called Lego Cinema Swamp Jump. In the toy there was a fox. I like foxes. I'm waiting for it to arrive. I can't wait to play with it." (Drawing of what looks like a bear head wearing a top hat.)
3/5/2015
"On Saturday I had Chinese food. It was good food man. I want to have it again, man!"
3/23/2015
"On Sunday Pig Rex is good I made him. There was paper. The Pig Rex is a monster. I had my brother's mask on." (Drawing of a pig with claws.)
Undated
"On Sunday I went to a birthday. Dominic was there, Evie too. It was fun. I played I had a velociraptor."
5/11/2015
"On Saturday I gave my mom a present. She liked it. It was a picture of a bounty hunter." (Drawing of Bossk from Star Wars.)
It's just really interesting to see what strikes Robin as notable: new toys, meals at restaurants, visits with family, birthday parties, and things he makes himself. …Sounds like a pretty good year, I guess?