---
I'm very pleased to share that I have a new children's book out, again beautifully illustrated by Ingrid Steblea. It's a funny read-aloud story about mischievous sprites and the wise teacher who must keep them from causing chaos in the classroom. I wrote it as an homage/gift to the director of the Peter Pan Cooperative Nursery School, Gail Murphy, who has been a tremendous force for good in the lives of our children and our community—and those of you who are part of the Peter Pan co-op, I would urge you to wait and buy this book at the holiday auction, where you'll be able to pick it up for a discounted price and the satisfaction of knowing that all proceeds will go to benefit Peter Pan.
For the rest of you, the book is now available in either Kindle ($2.99) or paperback ($15) formats. I can also provide free copies in exchange for your honest rating and review on Amazon: please contact me to request a review copy.
---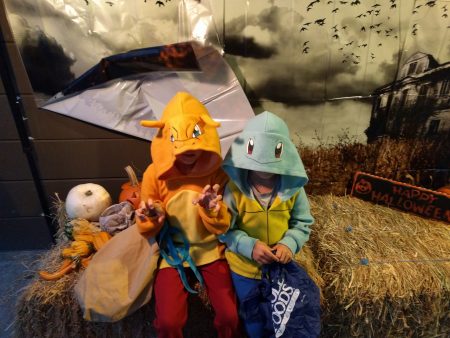 Pretty lazy Halloween for me this year. Storebought Pokemon costumes? Check. A couple hours at the neighborhood block Halloween party? Done and done. And you know what, they were just as thrilled with it as they were the year that I decorated the whole house and hand-assembled their costumes and made M&M cookies and rice krispie treats and popcorn balls. (Why, and more importantly how, did I even do that? Who on earth has the kind of energy for that, Past Me?)
Sol was supposedly a Pikachu but his costume didn't really fit and he didn't really care, so enh. Good enough!
---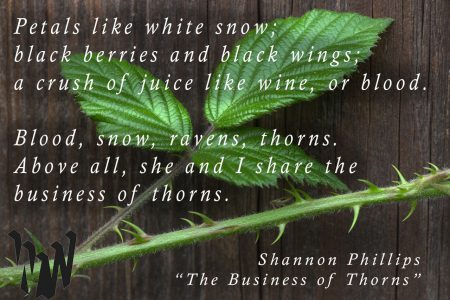 My story from the Speculative Story Bites anthology has been reprinted on the publisher's website, and they even made this pretty little pull-quote graphic to go with it, so that's nice.
The story's about a flower fairy-turned-gumshoe and her ex-girlfriend, and also botany. And also murder.
So, flower fairies, yeah. Cicely Mary Barker drew us as little nymphets with buttercup hats and dragonfly wings, having tea parties with mice or some twee shit like that. I think Cicely knew Morning Glory, and Glory's always been fanciful. Her seeds are laced with a psychedelic compound, you know—and not one that's particularly friendly to humans that go chasing that high. Neural damage, convulsions: Cicely was epileptic.

I'm not slamming Glory, though. We're the same type, her and me: wild, rambling, greedy for life. We take root anywhere and we're damn hard to kill.

Like this one time—
---
Sam, Robin, and Davy all went into the city yesterday to visit the San Francisco Comic Con, a convention for "people that have a true love for comic books, stories, artwork and pop-culture." Robin went costumed as "Lizard Master," a superhero of his own invention, while Davy dressed as Dipper from the "Gravity Falls" cartoon (his current obsession). Here they are on the subway: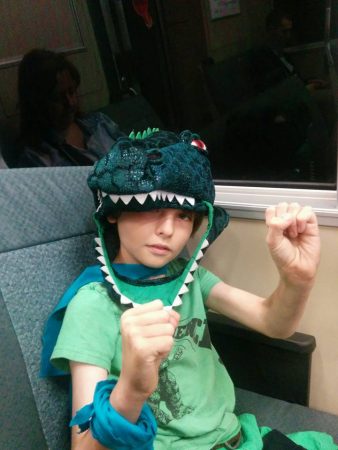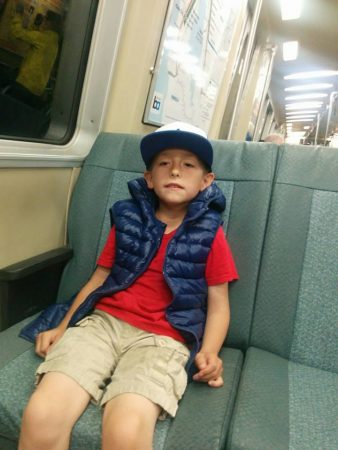 Robin came home calling it, with characteristic enthusiasm, the "best day ever." Apparently he got to hug Godzilla! And T-Rex! And Wonder Woman! (Wonder Woman is cool enough that he made an exception to his reptile theme for her.) Davy was more reserved but also seemed to enjoy himself quite a bit, while Sol and I stayed home and got some rest. So a very nice time was had by all!
---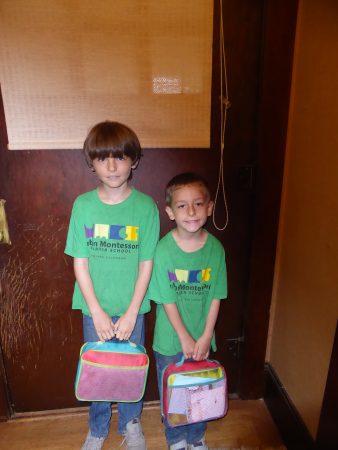 It's hard to believe that summer's over, but this morning we sent these two goofballs off to school, so I guess it must be true. Davy is starting first grade, while Robin's in third. Not the best picture in the world but trust me, any face that Davy makes for a camera will be equally dopey.
Bonus pic: a scene from Robin's fantasy-adventure birthday, starring Lizardzaur the Lizard Knight and his heroic friends. Basically we went to a park, gave the kids some foam swords, sent them off on a scripted "quest" which took about twenty minutes, and then let them run around screaming and swinging weapons at each other for the next couple of hours. "Mom!" Robin said on the way home. "Did you notice this birthday was full of AWESOME?" Yeah kiddo, I noticed.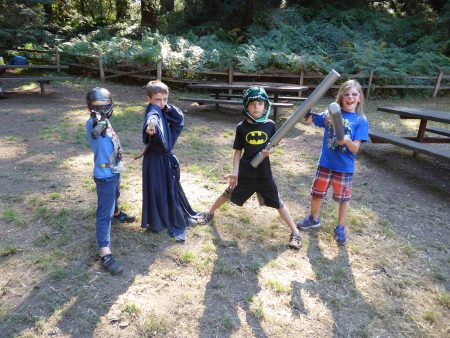 ---
I have a story coming out in this anthology, which will be released in e-book form August 9th:
There's also a plan to publish each of the stories on a separate website, one a month I believe, so I'll link to my story when it goes up. It's the flower-fairy noir detective ghost story, for those of you who may have read that one in draft!
---
The end of the year is always super busy. It's the last week of school for Robin and Davy and it feels like there's a million things I'm supposed to do. "Update my blog" is on the list somewhere, so I'm just going to throw a few things up.
Here's Sol having fun at the park: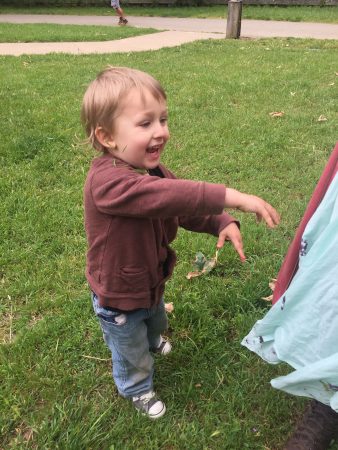 Here is the menu for my fortieth birthday dinner, which was last night:
lamb steaks broiled with garlic butter
pan-roasted asparagus with shaved parmesan
cornmeal-buttermilk sheet cake with blackberries, blueberries, and strawberries
Here is how I feel about being forty: Good, but I'm more than ready for life to slow down a little. I'm really looking forward to sixty.
Here is how I feel about the arrival of summer: super good. I wish you all long days, warm weather, and relaxed schedules. And maybe beaches or mountains or European cities or cabins in the woods—whatever you're into, really. And a lot of it.
---
Robin and his friend Genevieve performed a puppet show for their school's talent show. The video of the whole event is now online—Robin's performance starts at 16:07.
---
Davy: "Mom, I love you so much because you always do so many things to help me. I want to give you a hug."
Me, blinking rapidly: "Awww!"
(We hug.)
Davy: "And also I want to tell you what I want for my birthday. A bunch of Lego sets! And a tablet!"
Me, patting his back as the hug continues: "I really should have seen this coming."
---