Free Short Story: "The Business of Thorns"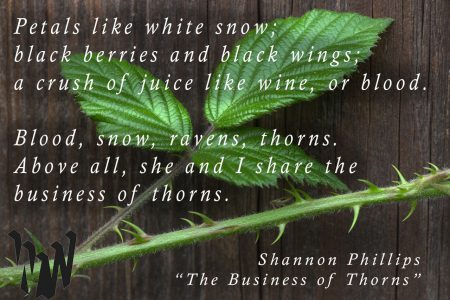 My story from the Speculative Story Bites anthology has been reprinted on the publisher's website, and they even made this pretty little pull-quote graphic to go with it, so that's nice.
The story's about a flower fairy-turned-gumshoe and her ex-girlfriend, and also botany. And also murder.
So, flower fairies, yeah. Cicely Mary Barker drew us as little nymphets with buttercup hats and dragonfly wings, having tea parties with mice or some twee shit like that. I think Cicely knew Morning Glory, and Glory's always been fanciful. Her seeds are laced with a psychedelic compound, you know—and not one that's particularly friendly to humans that go chasing that high. Neural damage, convulsions: Cicely was epileptic.

I'm not slamming Glory, though. We're the same type, her and me: wild, rambling, greedy for life. We take root anywhere and we're damn hard to kill.

Like this one time—