The Gospel of Godzilla
Here's something Robin worked up recently–it's meant to be a "top 10 facts about Godzilla" sort of thing, but as you read through, it takes on an almost spiritual quality: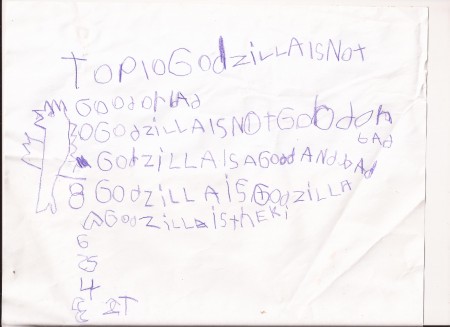 TOP 10 GODZILLA IS NOT GOOD OR BAD
10. Godzilla is not good or bad
9. Godzilla is a good AND bad
8. Godzilla is Godzilla
7. Godzilla is the ki[ng]
The numbers 6, 5, 4, 3, 2, and 1 have been drawn but are blank. (5 was drawn backwards at first and then forwards, so it appears to be 25 at first glance.) Anyway, I feel this stands as an interesting alternative to the more widely-known Tablets of Moses.