Drive-By Update
Oh my gosh, things have been busy since school started. It turns out that having two kids in two different schools, plus a baby at home, plus the time we put into our Scout troop, adds up to a very busy schedule? Who could have predicted!
Bullet points! I will give you bullet points.
Robin is doing great in first grade. He has settled right in and comes home saying his days are "awesome." Plus he's burbling about volcanos and the Big Bang and hissing Madagascar cockroaches, so I think they're even teaching him some stuff.
Davy is one of the big kids at our co-op preschool now. I like my work days there: it's such a happy, good place that even if I show up totally harried and stressed, I'll end the day feeling serene.
Sol the Wrecking Ball continues his rampage of terror. If he's not transferring the dog's kibble into her water dish by the fistful, then he's in the bathroom, unspooling all the toilet paper. Or he's climbing up the piano, or the bookshelves, or onto the dining room table. Or he's digging around in the potted plants. The only reasonable thing to do with him is take him to a park, but working around his nap schedule AND the two daily school pick-ups is a challenge. He's a challenge. I just keep telling myself it will get easier soon. Soon. Surely soon.
Our Scout group is rocking along! We've had two meetings plus a group hike, and next Sunday we're doing a "kid's bike rodeo" as part of the Oaklavia Love Our Lake Day. Look at these cuties (click to embiggen):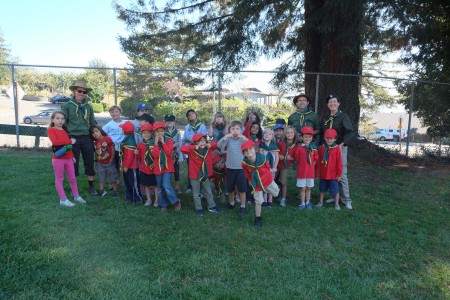 And that is all the bullet points I have!