Happy New Year!
I hope all of you are enjoying the holidays—we spent Christmas Day traveling, as the kids hadn't been back to see Pops and Mo in Arkansas for several years, and the only remotely affordable plane tickets we could find were those that had us flying on Xmas. Plane travel with three small children is never fun, but I will say that it could have been much worse. And seeing the family was delightful! The boys love their uncles, and of course they love their Pops and Mo.
And I liked seeing Fayetteville again! Every time I get back for a visit it's changed enormously, but some things are always the same.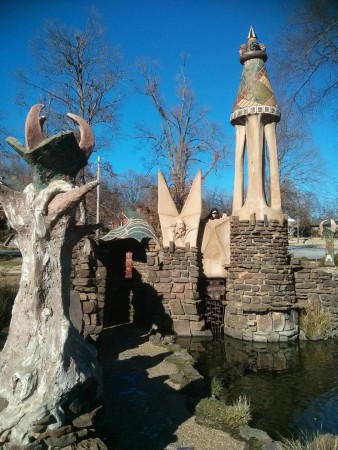 I snapped this pic of my kids exploring one of my favorite sites in Fayetteville: the "Point 7" art installation in Wilson Park. (You can juuuuust see Robin and Davy poking their heads up over the wall.) I loved this little play area when I was a kid: it's like a Maurice Sendak book brought to life. A castle with a moat and bridge, gargoyle faces, mosaic decorations—and everything twisted or mis-proportioned in a goblinish sort of way. If I ever have the kind of money that would allow me to become a great patroness of the arts, I'd like to bring the sculptor (Frank Williams) to Oakland and have him make something similar here.